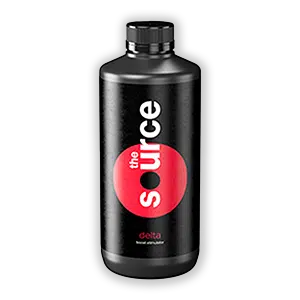 A clean, efficient, high-purity nutrient regime that is uncomplicated and unadulterated. There is no plant, grow media, or cultivation system that will not benefit from such a thing. With that in mind we developed the Source.
Now comprising a comprehensive six-product range, the Source has been refined through years of testing and use by the UK's leading horticultural universities. That experience, along with decades of our own experience as growers, has enabled the evolution of these uniquely pure and efficient feeds and biostimulants. 
Why choose the Source?
As headline qualities go purity and efficiency may grab less attention than results. But rest assured, every decent result is entirely dependent on pure, efficient inputs.
All Source fertilisers and biostimulants are composed of 100% natural, plant-extracted ingredients, with no artificial PGR's. For ease of use the range has been developed for hard or soft water suitability and performs in soil, coco, or hydroponic grow media. 
Source products have been designed to optimise the performance of AutoPot Watering Systems but are equally effective with all other cultivation methods.
Why AutoPot Watering Systems?
The Source has been tested and proven to be highly effective with all methods of cultivation. But to demonstrate the absolute pinnacle of efficient, high-yield growing we looked to an irrigation system that could take the Source to it's limit. We chose AutoPot Watering Systems. 
With AutoPot's zero-waste systems the supply of irrigation and fertiliser flows one-way to the plant and is not replenished until it is used up. Plants always receive the freshest, purest expression of the feed. Because AutoPots do not recirculate or expose feeds to evaporation the precise performance of feeds is also quantifiable. With AutoPot we could clearly see the Source's full potential.
As they do not require pumps AutoPot Watering Systems are also exemplary in their energy efficiency. We considered that if the Source could flow cleanly in a zero-waste, energy efficient system such as this then it really might help redefine the profitability of indoor gardening.